In RevControl, there is an option to enter the maximum daily rate. You can find this option under Business Rules > Max Daily Rates. Here you can enter the maximum price per month and day of the week.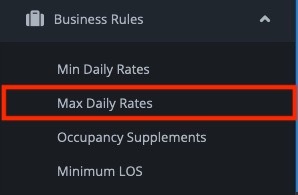 After filling in the maximum price, RevControl will not publish above this rate. If you wish to overrule this business rule you have to do this manually in the rate calendar.
When the option Max Daily Rates is not available, please, contact RevControl via chat or mail support@revcontrol.com.